About MSE Research and Promotion Center(MSE Center)
Message from Director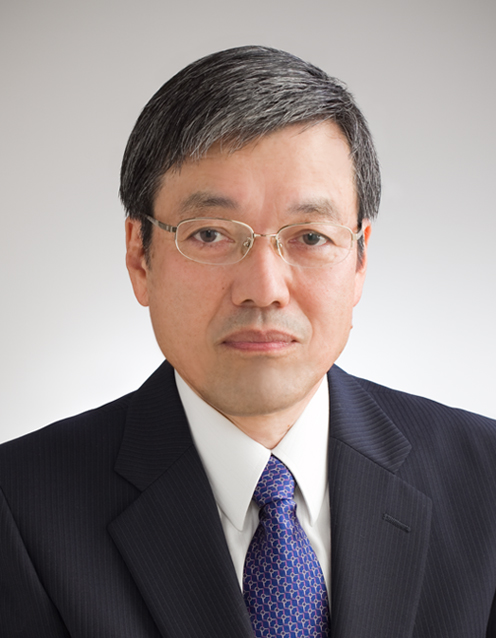 There is no doubt that new material development and property evaluation techniques are such as both wheels of a car for innovation in manufacturing which emphasize resource-saving, energy saving, and downsizing. Accordingly, it is essential that various tests and measurement techniques advance by different field fusion and wide area cooperation.
I have evolved a new evaluation method for material surface (Micro Slurry-Jet Erosion Method, MSE method) which uses erosion by micro slurry-jet (high speed water jet containing tiny solid particle) from the principle invention.
The aim of our center is to complete the MSE method as a seamless nanoscale evaluation method from the surface to the inside for various thin films which couldn't be estimated bacause of their hardness or softness in the past and for material surface strength/deterioration.
(1) Advance of MSE evaluation equipment and establishment of standard test method
(2) Clarify and accumulate datebase the relationship between property/strength and MSE rate(erosion rate) at nano level about various thin coatings and materials.
(3) Explication of a mechanism of erosion by impact of tiny particles (surface fracture and removing).
(4) We dispatch this evaluation method to the world as the number one and only one method of a global standard, and aim at international
standardization through the activity of this MSE research and promotion center.

Through realization of the above four objectives, we strive for changing the manufacturing of all over the world as well as within Japan. A study of the manufacturing controlled by atomic and molecular levels is leading ultra advanced manufacturing to practical use at present. On the other hand, there is also current state with which a conventional general-purpose mechanical characteristic evaluation test can't answer any more to such forward manufacturing. I think MSE method opens the way in material evaluation by the nano size dynamic mechanical property test, and we can visualize the special quality and the feature of the material which is indispensable for manufacturing with the nano size of the next generation.
We would like to make an effort toward enhancement of the value and significance of the MSE method and contribute to society through the above activity with much cooperation with everybody.
We are waiting for access to this center from everybody who is concerned with the MSE method at present and persons who have a sincere interest.
History
Jun. 1997

Iwai (Univ. of Fukui) and Matsubara (Macoho Co., Ltd. at that time) met at The 5th Nihonkai Tribology Kenkyukai (domestic research meeting). Matsubara gave a special lecture on wet-blast.

1997

Iwai visited Matsubara at Macoho Co., Ltd. and discussed the mechanism of wet-blast. Iwai happened to see a compact abrasion tester there and borrowed it from Matsubara for slurry erosion research.

Apr. 1998

Iwai started research of the Micro-Slurry Erosion (MSE) test to develop a tribology test of hard thin films with the tester.

Mar. 2000

Iwai started a collaborative research on hard thin films as a visiting scholar of Ministry of Education Fellowship Program for Japanese Scholars and Researchers to Study Abroad at Prof. Hogmark's Lab. of Uppsala University (Sweden).

Apr. 2001

Iwai presented on a potential of MSE principle and test at the 17th International Conference on Wear of Materials(Vancouver).

Oct. 2002

Patent "FILM EVALUATION TESTER AND FILM EVALUATION TESTING METHOD" was registered. (registration #: 3356415)

Jan. 2006

Trademark "MSE" was registered. (registration #: 4920728)

Feb. 2009

"Development of micro slurry-jet erosion (MSE) tester for evaluation of surface strength and wear properties of hard thin coatings" by Yoshiro Iwai, Tomomi Honda, Toshiro Miyajima (Univ. of Fukui), and Tohru Matsubara (Palmeso Co., Ltd.) won "Special Award," the 1st Iwaki Tribocoating Network Award by Precision Engineering Network.


May 2010

Patent "FILM EVALUATION TESTER" was registered. (registration #: 4510612)

Apr. 2012

Palmeso Co., Ltd. won "excellent award" and Yoshiro Iwai (Univ. of Fukui) won "Industry-Academia Collaboration Special Award" at the 24th Resona Foundation For Small And Medium Enterprise Promotion & NIKKAN KOGYO SHIMBUN "Awards For Excellent New Technologies And Products Of Small And Medium Enterprises".

May 2012

"MSE(Micro Slurry-jet Erosion)Evaluation Technique" by Tohru Matsubara (Palmeso Co., Ltd.), Yoshiro Iwai (Univ. of Fukui), Masami Otsuka (Palmeso Co., Ltd.), Tsutomu Katsumata (Palmeso Co., Ltd.) and Toshiro Miyajima (University of Fukui) won "Tribo-Technology Award," Japanese Society of Tribologists 2011.


Mar. 2015

MSE Research and Promotion Center was established at the University of Fukui.
Organizational Chart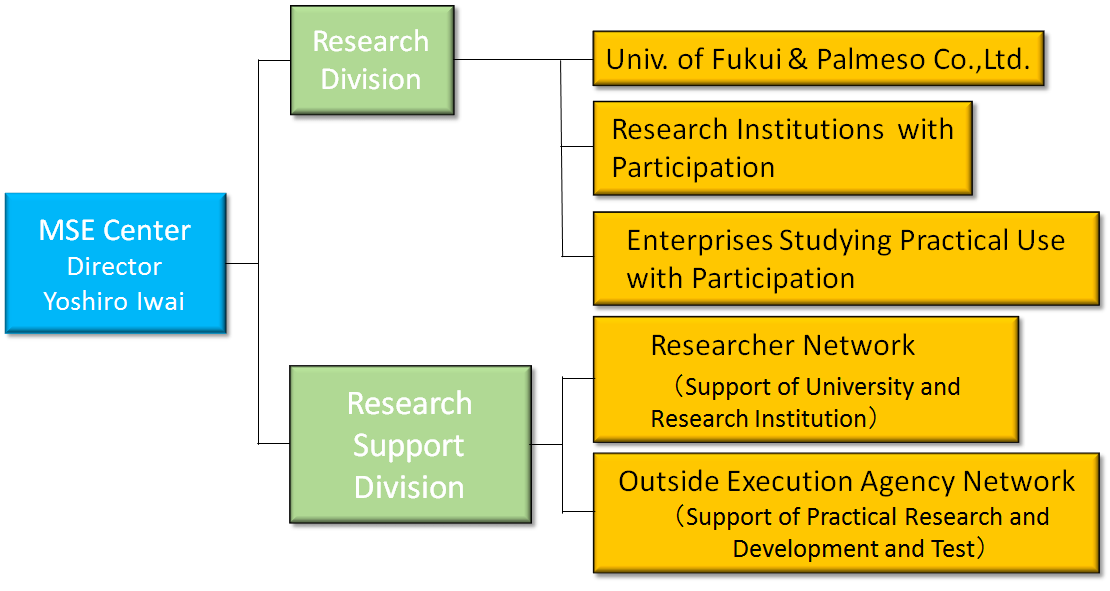 Mission
The Micro Slurry-Jet Erosion (MSE) method for evaluation of material surface strength and surface deterioration has been developed by fusion of research of tribology and of erosion of mechanical materials for years and wet blasting technology at the University of Fukui.
The MSE evaluation test method is only one technique in the world which evaluates the strength of materials surface and properties by a different principle from in the past. If the materials can be removed by the micro-nano scale using erosion, it gives the materials new functions, such as three-dimensional microstructure, non-uniform constitution and compound material ingredient selective structure on surface.
We pioneer a new research field of erosion of micro-nano scale by MSE technology which has the possibilities mentioned above, and develop the test method and surface precise processing method as de facto standard originating in Japan. Through the project, we aim to contribute to social development. Here, we establish MSE Research and Promotion Center at the University of Fukui for the purpose of further development of the quality and amount of research of MSE technology, accumulation of outcomes, and diffusion both within and outside Japan.
The following are missions of our center:
(1) We build a network of researchers and engineers related to MSE and play the role of organizer.
We make an effort toward improvement of the utility awareness of MSE, value and the significance in academic and industry, and awareness.
(2) Information about MSE method is accumulated and exhibited.
(3) Workshops about MSE are planned and held.
(4) We are charged with the role of keeper for research and technological consultation about MSE method. Experimental facilities are opened as the need arises
(Please understand that we will collect and request the research fund according to the situation.)