What's MSE
MSE test method
 Research for MSE method began when Professor Yoshiro Iwai, who has studied wear and cavitation erosion for a long time, had an idea for a principle and established a method. Test apparatus has been developed by Palmeso Co.,Ltd. which has collaborated with Iwai Lab on joint research. Slurry jet containing tiny solid particles and water is ejected on a sample surface by a highly precise wet blast technique. 1.2μm alumina particles are used as standard, but various materials and sizes are used for various samples. A great deal of solid particle (hundreds of millions/s) is projected by high speed (about at most 100 m/s, 360km/h by converted into the speed per hour). Micro-nano scale erosion on material surface caused by particles impact is related to the strength, deterioration and degradation of the material surface. Therefore, it is possible to evaluate the properties from the surface to the interior, seamlessly, by high precise measurement (resolution 10 nm) of erosion amount.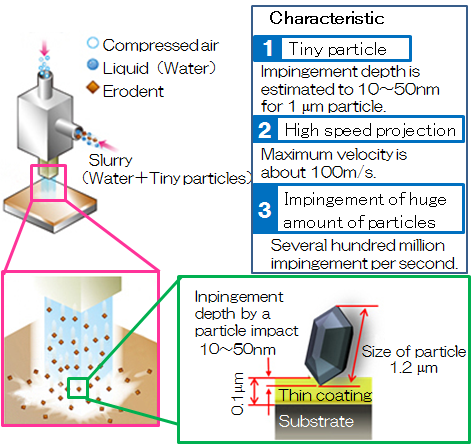 Principle of MSE test
Evaluation properties
Strength comparison (coating-substrate, same materials, comparative materials, etc.)
Depth profiling (strength distribution)
Layer thickness measurement
Interfacial strength measurement
Surface alteration/deterioration measurement, etc.
Applications
back to Top
Use applications
【Test】
Property evaluation of surface strength of nano-micro scale
Property evaluation of surface and interior direction of various thin coatings and materials
Degradation diagnosis
Quality inspection, etc.
【Processing】
Precise surface machining (texturing)
Surface removal processing, etc.
Materials
Hard thin films (PVD/CVD, TiN, TiC, TiCN, CrN, DLC, etc.)
Soft thin films (paint, color filter, optical film, ITO film, etc.)
Multi layer films (tool coating, optical lens coating, etc.)
Surface processing materials (quenching, plating, nitriding, chemical conversion coating, PVC/CVD film, gradiant composite film, etc.)
Bulk materials (Si wafer, Al piece, SUS, SK85, sapphire, WC-Co alloy, etc.)
Resin materials (Si, polyimide, PET, PEEK, PTFE, etc.)
Rubber materials (fluoro-rubber, natural rubber, urethane rubber, etc.)
Ceramic materials (CBN, diamond, etc.)
Also, polymer film, solar cell thin film, LCD protection film, biofilm, etc.